Overview
The trip starts in the German capital of Berlin and ends in Copenhagen, the most beautiful city and capital of Denmark. On the way we pass through beautiful countryside with forests, natural lakes, meadows and fields north of Berlin. We then arrive in the Hanseatic city of Lubeck, Germany's most extensive UNESCO World Heritage Site. We will have a day off here to explore this unique and remarkable city on the Baltic coast. We then continue to the northern tip of Germany, near the town of Puttgarden. From there, a ferry will take us to Denmark. Denmark has one of the most extensive bike path networks in Europe and Danish drivers are arguably the most considerate drivers in the world when it comes to cyclists. We spend a few days on the bike paths and countryside roads of Denmark before arriving in Copenhagen, where, apart from other sightseeing, you will have the opportunity to explore the city from a boat.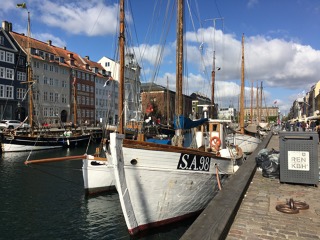 There is so much to see in Berlin as well as Copenhagen and we certainly encourage you to stay a few more days before and after the trip. Moreover, should you desire to continue further north, to Sweden and Finland, you can join us for the second leg of our Scandinavian adventure, a tour from Copenhagen to Helsinki via Stockholm, which immediately follows the tour you were just on. You will not regret it.
What's Included
Accommodations (10 nights) – 4-star and 3-star hotels and bed and breakfasts
Breakfasts every morning and 6 dinners
Sightseeing (including walking tours in Berlin and Lubeck, boat tour of Copenhagen)
Van support with snack stops and optional picknick lunches along the route; luggage transport
Cue sheets and copies of maps
Tour guide and ride leader on route
Option for extended stay in Berlin and Copenhagen 
Itinerary **
Day 1, Berlin. Check-in and sightseeing 
After you check in (for those who are just arriving) we will meet at the reception at 2.00 p.m. and set out for an East Side Gallery tour with a professional guide. You will have the opportunity to see this unique monument to the fall of the Berlin wall. It is also the longest "open air gallery" in the world. You will have the opportunity to learn about some of the fascinating and notorious history of the Cold War era. We will have a bike fitting session either before or after the tour. In the evening, we will meet for our welcome dinner and orientation meeting.   
Day 2: Berlin to Rheinsberg (85 km / 53 miles)
Today, we pedal through beautiful meadows and wooded and lake areas north of Berlin, eventually arriving at Rheinsberg, a lake resort located on the Grienericksee Lake. In the afternoon, before dinner, you will have the option of visiting the Rheinsberg Palace with gorgeous gardens on the eastern shore of the Grienericksee. It is a classic example of the so-called Frederician Rococo architecture style. Today, it also houses a Literature Museum. We will spend the night in a hotel right on the shore, with a sunset view of the lake.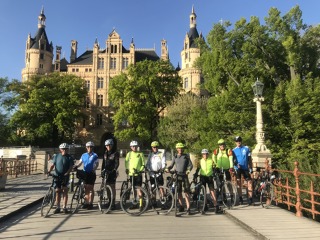 Day 3: Rheinberg to Plau am Sea (76 km / 47 miles)
We continue heading north, riding through a similar landscape as the previous day, with beautiful countryside and small towns and villages along the way. Our destination today is the small town of Plau am Sea, founded in the 13th century. After arrival, you can walk around its historical sites, including its town hall, the Burg Plau castle and drawbridge.  You can also take a stroll through the town's "city forest".
Day 4: Plau am Sea to Schwerin (80 km / 50 miles)
Heading west, we pass through and along some more lakes, woods, meadows and nature reserves. We pedal through a few villages and small towns, eventually arriving to the town of Schwerin, located on the shore of Lake Schwerin and surrounded by 11 other lakes. The town dates back more than 1,000 years and you'll be able to see, among other historical sites, the Schwerin cathedral and the famous Schwerin Castle and its gardens.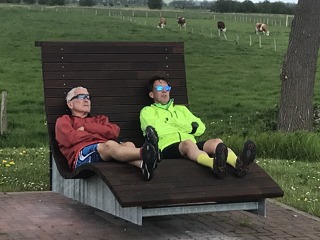 Day 5: Schwerin to Lubeck (71 km / 44 miles)
We will be getting ever closer to the Baltic Sea today and the landscape around us will be gradually changing accordingly. Our destination today is a real historical and cultural gem, which many tourists do not know about. This old Hanseatic city has so much to offer. It is located on the mouth of the Trave River, which flows into the Baltic Sea. The city's symbol is the Holstein Gate, dominated by the seven towers of its five main churches. The city is city distinguished by the so-called "Brick Gothic" architecture and you will be able to see some of the best-preserved buildings of this particular style in Europe.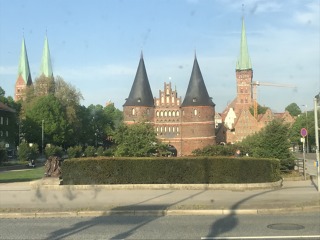 Day 6: Day off in Lubeck
We will enjoy a day off the saddle and have a very informative and interesting walking tour of the city's medieval center in the morning, after which you can explore this marvelous city some more on your own. You will definitely not be bored and you may be surprised what this city, which you have possibly heard very little about, has to offer…
Day 7: Lubeck to Puttgarden (94 km / 58 miles)
Our last day of riding in Germany. Heading north from Lubeck, more or less following the Baltic Sea, the landscape becomes more coastal like. Some beautiful scenery and villages built in a "Baltic" architecture on the way again. Our destination today is Puttgarden, a small town on a big resort island in the Baltic Sea. In the afternoon, you will have the option to get a ride in our van and visit a German U-Boat from WWII, which is a museum today.
Day 8: Puttgarden to Naestved (98 km / 61 miles)
After a short morning ride to the local port, we board a boat and take a 40-minute ferry across the Femer Strait bay to Rodby, Denmark. The rest of the day we'll ride mostly on bike paths in the flat Danish landscape, passing small towns, villages and farms, being able to observe how people live in the countryside. You will be able to compare some differences between Germany and Denmark right away. We will spend the night in Naestved, located on the island of Zealand. There was a settlement here already 400-500 BC. The town has a nice historical center, which you will be able to see during our afternoon or evening stroll through the town.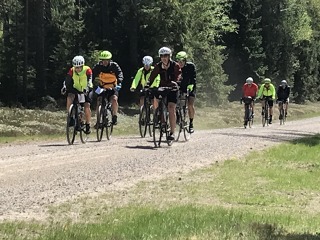 Day 9: Naestved to Copenhagen (84 km / 52 miles)
Our last day of riding, using a combination of bike paths and country roads. You will see more of the Danish countryside and landscape, eventually arriving to the Danish capital, which is, along with Amsterdam, arguably the world's bicycle-friendliest. You can start sightseeing this beautiful and picturesque city once we arrive. We will have a nice group dinner in the evening.
Day 10: Copenhagen
There is no more riding. Today is reserved for sightseeing Copenhagen. Our introductory boat tour of the city is scheduled for 10.00 a.m. After the tour, you will have plenty of time to explore this marvelous city some more on your own. We will get together for a goodbye drink in the afternoon.
Day 11: Copenhagen
The tour is officially over after breakfast. We encourage you to stay a day or two longer to explore the Danish capital. Alternatively, you can join us for our Copenhagen – Stockholm – Helsinki tour, which starts as soon as this tour ends. In that case you will enjoy yet another welcome dinner, this time in Copenhagen, meeting your new companions for the next 2 weeks and leaving the city the following morning.
Trip Difficulty
For full enjoyment of the trip, you should come prepared to complete the 70-95 km / 45-60 mile days comfortably on flat and just very slightly rolling terrain. Most of the hilly terrain occurs during the last four days of the trip.
Our route is mostly designed along small, quiet, and picturesque roads with as little car traffic as possible and/or bike paths that enhance your sightseeing experience of the local areas. With the exception of a few sections, most of the roads and bike paths are paved. It means that the trip is suitable for road as well as hybrid bikes.
Transportation
Berlin is serviced by Tegel Airport, not too far from the city center. Very reasonably priced taxi services as well as public transportation are available from the airport to the city.
The Copenhagen airport is located just 8 km from the city center. Apart from taxi services, there are metro and bus public transportation services available to the city.
Bike Rental
If you wish to rent a bike from us, we have the following fully serviced, light, quality road/fitness bikes available:
Fuji Absolute 2, 3, and 4, flat handlebars
Fuji Newest 1 and 2, drop handlebars
Fuji Roubaix 1.3, drop handlebars
Your rental bike comes with a rear luggage rack, bungie cord, extra tube and levers, water bottle cage, pump, lock, and odometer. The price for renting a bike for this tour is $200 for Fuji Absolute or $270 for Fuji Newest and Fuji Roubaix.
* Our expenses are mostly payable in Euros. Because of the constant fluctuations in currency rates, we reserve the right to increase the trip price. The trip price may increase depending on the currency exchange rate of the Euro to the USD and/or AUD at the moment of your final payment. The trip price shall increase if the USD/Euro exchange rate exceeds 1.10 and/or AUD/Euro exchange rate exceeds 1.60.
** We reserve the right to change the itinerary without notice especially, but not only, for safety reasons.