Overview
Join us in touring three countries, Germany, Austria and the Czech Republic, at their best. You will be able to enjoy a combination of some of the most beautiful cities and towns in Europe and particularly in Central Europe, together with pristine nature, river meanders, shaded woodlands, open meadows, beautiful countryside, countless historical monuments and much, much more. You will visit not only the old and famous gem-cities of Munich, Salzburg, Cesky Krumlov and Prague, but also many off the beaten path sites, which are amazing, yet not many tourists get to see them. You will be able to see the similarities as well as differences among these three Central European countries and to experience the real life of people in these areas. Come to see for yourselves…..
We recommend you arrive a few days before the start of the trip and explore the main Bavarian city and its beautiful center. We can suggests some accommodation options for you based on your needs and desires. We can even make reservations for you…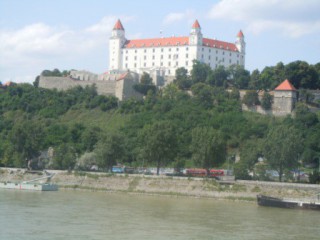 What's Included
10 nights lodging in selected 3-star to 4-star hotels and pensions.
Hearty breakfasts every morning and 6 wonderful dinners.
Bilingual tour guide and ride leaders on route.
Van support with snack stops along the route; luggage transport.
Walking tours, including sightseeing in Salzburg, Cesky Krumlov and Prague.
Excursion fees to selected castles and chateaux.
Option for extended stay in Prague.
Itinerary**
Day One: Munich – Bernau am Chiemsee, 93 km
We meet at a specified location on the outskirts of Munich, do all the necessary bike fitting adjustments and have a short orientation meeting over a cup of coffee or tea, after which we leave the city traffic behind. We head east, riding on small roads via quiet Bavarian villages. We enjoy the views of the majestic Alps in the south all day long, eventually arriving in the town of Bernau am Chiemsee, located nearby the largest lake in Bavaria nicknamed the Bavarian Sea. You can take a swim in the lake or do more cycling around the lake before dinner. The scenery is magnificent…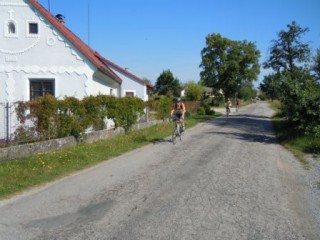 Day Two: Bernau am Chiemsee – Salzburg, 72 km
 Today we continue riding along the foothills of the splendid peaks of the Alps, enjoying the beautiful scenery of the Bavarian and Tyrol regions. We cross the border back to Austria. Our destination today is the city of Salzburg, arguably the most beautiful city in Austria. The town is situated among the lush hills that hem the Salzach River, creating a perfect picture of this fairy-tale town, one of the most famous cultural destinations in Europe. The city's splendidly preserved "Old Town" is one of the Continent's baroque gems. Salzburg is a host to many cultural festivals and is famous, among others, for its classical music scene. It is also the birthplace of Mozart.
 Day Three: Day off in Salzburg with an optional ride
 We stay in our hotel in Salzburg one more day. You have a couple of options for today. You can take a day off and stay in the city, enjoying its many attractions, taking a tour of the downtown and visiting some of its many museums and the birthplace of Mozart. Or, time-permitting, you can hop on the bike again and join us for a relatively short ride to the world's most famous salt mines in Hallein and/or the village of Berchtesgaden, which played such a big role during the days of the notorious Third Reich. It was here where Adolf Hitler had his Berghof residence. These days there is a restaurant overlooking the Bavarian Alps, where you can enjoy a meal or a drink. In Hallein, we can book a tour of the mines for you. We should be back in Salzburg just in time for dinner.
 Day Four: Salzburg - Arnstorf, 122 km
We head in the northwest direction today, away from the Alps, passing charming Austrian towns and villages. The area north of Salzburg is known for its many lakes, diverse forests and pristine nature. We cross the border back to Germany and keep riding through traditional Bavarian towns and villages. Our destination today is Arnstorf, a small town not far from Landau an der Isar, a town founded in 1224 on the bank of the Isar River. You can relax in our hotel after a relatively long day of riding or you can take a shuttle to Landau and explore this town a little before dinner (time permitting).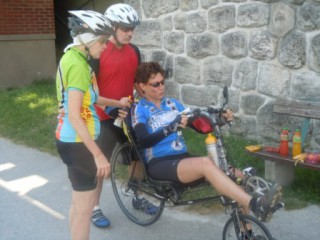 Day Five: Arnstorf - Passau, 53 km
Today's riding takes us to the beautiful valleys of the Isar River, which starts in the Alps. It is one of the most important rivers in the Tyrol and Bavaria regions. We follow the Isar until it joins the Danube, the second longest European river (after Volga in Russia). You can expect some pristine nature on the way, as well as breathtaking views of both of the rivers and their peaceful meanders. Our destination today is the city of Passau, also known as the "City of Three Rivers", whose history can be traced back more than two thousand years. This beautiful city lies by the Austrian border and you should definitely take a walk through its historically rich old town before and/or after dinner 
Day Six: Passau - Cesky Krumlov, 87 km
Leaving Passau behind, we head towards the hilly German-Czech border. It is a demanding ride today and you can of course use our van for some shuttling. However, you will be awarded for today's difficult riding, full of spectacular nature sightseeing, by the splendor of our destination - Cesky Krumlov, the jewel of the Czech Republic and a UNESCO designated World Heritage Site. You will not find another town like this anywhere else. Cesky Krumlov laid on the main trading route between Bohemia and Italy, which explains its splendor. After dinner, you can enjoy an evening stroll in this easy to navigate and unbelievably beautiful and preserved medieval town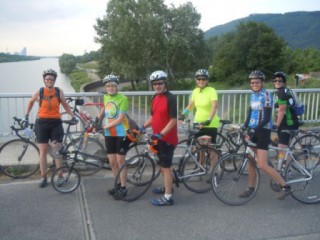 Day Seven: Day off in Cesky Krumlov with an optional ride
After breakfast, we will join a tour of the amazing Cesky Krumlov Castle. After that you have several options to choose from. You can opt for a short transfer to the nearby Sumava Mountains Nature Preserve, and take an afternoon ride with us along the picturesque Lipno Dam mostly on a flat bike path. Alternatively, we can arrange a short canoe or raft trip on the Vltava River, along which this gorgeous town lies. Or you can just simply continue wandering around the town, having a drink or two and some of the great meals on offer. Either way, we guarantee you will not get bored
 Day Eight: Cesky Krumlov - Ceske Budejovice, 56 km
Today we ride the back roads towards Ceske Budejovice, the beautiful provincial capital of southern Bohemia and home town of the original Budvar (Budweiser) beer. The ride is short but hilly in the beginning. We have a tour of the brewery (including some beer tasting) in the afternoon after checking in to our hotel. The hotel is situated on the town's famous main square lined with Baroque and Renaissance buildings, where you can enjoy the rest of the day and evening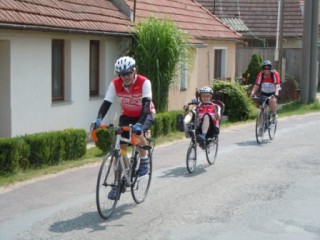 Day Nine: Ceske Budejovice - Tabor, 75 km
We spend about half of our last riding day along or nearby the Vltava River, which flows all the way to Prague. Once again the countryside scenery is just amazing and the villages and little towns on the way are full of sightseeing points, including hundreds of old castles, churches and other monuments. We will pass by the world famous Hluboka Chateau, riding through several beautiful historical "off the tourist radar" towns and villages, such as Hluboka nad Vltavou, eventually arriving to Tabor, a historic town situated above the Lužnice River. Founded in 1440, the town got its name (which means "camp") because it was the center of the Hussites, a radical group of Christian reformers who successfully fought against the armies of the Holy Roman Empire
Day Ten: Tabor - Prague
After breakfast at our hotel, we board a bus that will take us to Prague, the final destination of our tour. We have a walking tour of the city, often called the Heart of Europe, the Golden City or the Mother of Cities, scheduled for the afternoon. We regroup in the evening for our farewell dinner
Day Eleven: Prague
After breakfast, our trip is officially over. If you can, you should definitely extend your stay here for a few extra days to explore the city in more depth.
Trip Difficulty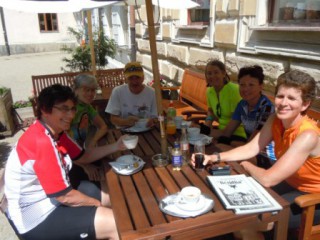 For full enjoyment of the trip, you should come prepared to complete the 60-95 km / 40-60 mile days comfortably on rolling to moderately hilly terrain.
We try to design our route along small, quiet, and picturesque roads with little car traffic and/or bike paths that enhance our sightseeing of the local areas. For the most part road surfaces will be of very good or good quality, however we are to expect small sections, where the road is not as well maintained. We suggest a road or touring bike equipped with 23-28mm tires for this tour.
Transportation
Munich is serviced by Flughafen München Airport located about 20 km northeast of the city center. There is a public train service from the airport to the city center (approximately a 45-munite ride). Alternatively, taxi service is widely available as well.
Prague is serviced by Vaclav Havel Airport, located just west of the city center. There is both public transportation and reasonably priced shuttle service available from Prague to the airport to.
Bike Rental
If you wish to rent a bike from us, we have the following fully serviced, light, quality, road/fitness bikes available:
Fuji Absolute 2, 3, and 4, flat handlebars
Fuji Newest 1 and 2, drop handlebars
Fuji Roubaix 1.3, drop handlebars
Your rental bike comes with a rear luggage rack, bungie cord, extra tube and levers, water bottle cage, pump, lock, and odometer. The price for renting a bike for this tour is $200 for Fuji Absolute or $270 for Fuji Newest or Fuji Roubaix.
* Our expenses are mostly payable in Euros. Because of the constant fluctuations in currency rates, we reserve the right to increase the trip price. The trip price may increase depending on the currency exchange rate of the Euro to the USD and/or AUD at the moment of your final payment. The trip price shall increase if the USD/Euro exchange rate exceeds 1.20 and/or AUD/Euro exchange rate exceeds 1.70.
** We reserve the right to change the itinerary without notice especially, but not only, for safety reasons